10 avril 2014
Welcome back!
I would like to develop a new topic about fair trade and here is a short film as introduction to give you some keys :
Tipping the balance (what is Fairtrade?)
Will come back soon to you with more explanations.
Cheers!
Laurence
19 mars 2010
Dear readers,
A couple of years ago, I had the great opportunity to do a training in Macau and two years after in Baoding at 150 km from Beijing.
Recently, I met another contrasting and very interesting country: INDIA.
Humanly speaking, I met very different people and the most fascinating fact was the look they had at the same time surprised, interested, curious or charming.
Each exchange let me a pleasant souvenir in mind. Thanks to them for sharing a few seconds of emotion...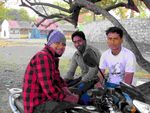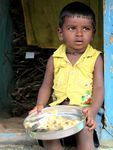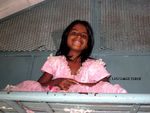 (C) Ceraulen - 2010 (C) Ceraulen - 2010 (C) Ceraulen - 2010
What I wrote in 1999 in my training report when I was in China is all the more precious today that I realized once more how our way of thinking is important when we travel. Let you judge by yourself...
" My encounter with China (and now India) was not superficial, insignificant or insipid. It is a love story started long time ago for the sake of difference and attraction of an unknown world.
Even if at the beginning nothing could fate me to get acquainted with this country, as luck would have it leading me towards a very good friend native from Cambodia and Macau where I lived an unforgettable experience at the same time professional and personal.

China / India so wonderful to our Westerners' eyes have thousands of treasures. They enjoy a genuine potential we need to gently cultivate and cleverly protect without rush and to understand to their own rythm passing over obstacles one after the other. It is a question of patience, passion and determination.

We can quote the sinologist Rene Etiemble as follows: "the West was confronted to various purposes in China: doing business, exchanging, colonizing but seldom understanding." This quotation is also valid for India and all the other developing countries.
When Westerners can stop considering the developing countries absolutely need them to open up? It is partly true even if there is not the slightest doubt that discovering what is hidden under the appeareance, pretence and courtesy is more relevant.

The best way to deeply know a country is to live there, give time to time and not to have a touristic behaviour. That means based on your know how, background, objective vision, open your eyes and your heart trying to be integrated and share moments with local people whatever social status, religion or political ideas they have.
It is the most interesting experience as the appreciation keeping in mind when you go back is more realistic than for foreigners living in 5-stars hotels, taking part to a tour with a guide and a mini-bus for 10 days and who feel at ease in this artificial and cocooning paradise.

Lisa Carducci, an Italian and French teacher firstly in Montreal and then in Beijing working in China asserted she adopted China. In her book dedicated to her integration in China, she wrote down: " to be happy in daily life in China, you have to let bygones be bygones and rebuild a new culture thanks to the components you can choose in your former and new culture".
Even if there is a gap between two cultures, the creation of a third one, mixture of the two first ones is not so obvious but possible. That means a great effort in terms of mutual understanding and tolerance is needed to fight against prejudice and difference denial. It is a humanity lesson in which you cannot be blind ;-) You need to be ready to receive a humbleness lesson.
That is also the case when you want to know someone else. The main point is to freely exchange and to be willing to give just to give and not only to receive...

Let us hear the following songs linked to this concept : http://www.youtube.com/watch?v=I1yvbb3e5-M
http://www.youtube.com/watch?v=E5K0aPGw9Rk&feature=related

A glimpse to the area where I have been living and the famous inhabitant called Amelie Poulain:
http://www.youtube.com/watch?v=aip3836VtZ0&feature=related

About Rene Etiemble: http://lisa.revues.org/index876.html
http://www.jstor.org/pss/385509
Article in French: http://french.peopledaily.com.cn/french/200203/15/fra20020315_53108.html

About Lisa Carducci: http://www.chinadaily.com.cn/china/2008-04/09/content_6601013.htm
And because it is never too late to be happy, enjoy life and discover whatever, whoever and whenever you have the opportunity ;-)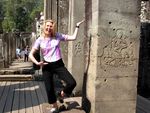 (C) Ceraulen - 2009
With best wishes,
Ceraulen



14 mars 2010
Running Legs, 5th Avenue [Jambes de passants, 5e avenue] New York, c. 1940-1941 - Lisette Model
Tirage gélatino-argentique moderne (1980). - 49,4 x 39,4 cm
National Gallery of Canada, Ottawa, achat 1985
© The Lisette Model Foundation, Inc. (1983).


Dear readers,

Today, I visited the Jeu de Paume's exhibition dedicated to a discrete but gifted photographer called Lisette Model (1901 - 1983) and encourage you to see it if you are in Paris ;-)
She took part from the unavoidable photography masters neither thanks to her personal style nor her teaching activities.
The exhibition some of her master pieces from the "Promenade des Anglais" in Nice series in 1934, "Reflection" (1939-1945) showing shops windows, pedestrians and skycrapers architecture, "Running legs" (1940-1941) and "Pedestrians" (around 1945).
Between 1942 and 1949, here was the carrier peak of Lisette Model as she realized her memorable reports in the best bars, night clubs of Lower East Side and Bowery. The Harper's Bazaar magazine also published in 1941 her most famous picture called "Coney Isaland Bather", a fat lady in swimsuit with a lovely smile.

See this link: http://www.culture-routes.lu/php/fo_index.php?lng=en&back=%252Fphp%252Ffo_index.php%253Flng%253Den%2526dest%253Dbd_ev_lst&dest=bd_ev_det&id=00003306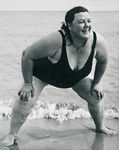 Coney Island Bather [Baigneuse, Coney Island] - New York, c. 1939-1941 - Lisette Model
Tirage gélatino-argentique d'époque. 50,5 x 40,5 cm
Fundación MAPFRE, Madrid - © The Lisette Model Foundation, Inc. (1983).
One other picture of the exhibition concerns a Cabaret artist (transformer) half-man, half-lady, very impressive. See by yourself: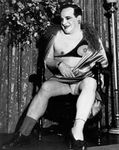 Lisette Model
Alberta-Alberta, Hubert's 42nd Street Flea Circus, New York, c. 1945
National Gallery of Canada, Ottawa, don de la Succession de Lisette Model, 1990, sous la direction de Joseph G. Blum, New York, par l'entremise des American Friends of Canada
© The Lisette Model Foundation, Inc. (1983)

According to her words: "... photography is an art form which means: human beings expressing their understanding of and connection with life, themselves, and other human beings." (...)

The camera is an instrument of detection. We photograph not only what we know, but also what we don't know (...)

New images surround us everywhere. They are invisible only because of sterile routine convention and fear.(...)

I have often been asked what I wanted to prove by my photographs. The answer is, I don't want to prove anything. They prove to me, and I am the one who gets the lesson."
Lisette Model was born into a wealthy Jewish family in Vienna, Austria, in 1901. Music was her passion and she studied voice and piano. Model moved with her family to France in 1926. There, she took up photography so that she would have a practical skill on which to rely. Photography became both her medium of artistic expression and her main source of livelihood.
In 1938, Model immigrated to New York City with her husband, who was a painter. She felt in love with the city's noisy, narrow streets, tall buildings, fast pace, and energy. Throughout the following ten years she mainly photographed subjects she found on the city streets.
Her powerful, though nonconventional, images of New York were frequently seen in Harper's Bazaar. It was through her role as a teacher, however, that Model had the greatest impact on young photographers. For the thirty years before her death in 1983, she taught her students to open their eyes and respond to their subjects with their hearts:

"let your intuition have free reign", what a good piece of advice !
To finish, let me invite you keeping in mind some expressions linked to photography:
From WORDREFERENCe website (http://www.wordreference.com/enfr/photography)

| | | | |
| --- | --- | --- | --- |
| aerial photography | | | photographie aérienne |
| black-and-white photography | | | photographie noir et blanc |
| color photography | | US | photographie couleur |
| flash photography | | | photographie au flash |
| infrared photography | | | photographie infrarouge |
| macro-photography | | | macrophotographie nf |
| time-lapse photography | | | accéléré |
From http://www.getty.edu/education/teachers/classroom_resources/curricula/esl2/esl2_photo_overview.html

Photography
A method of recording the image of an event, person, place, or thing by the action of light on a light-sensitive material. The photographer chooses the subject, vantage point, framing, moment of exposure, and lighting and makes the photograph for documentary or artistic reasons.

method—a way of doing something
recording—copying
image—picture
light-sensitive—responsive to light
vantage point—the place where the photographer positions the camera
framing—using the viewfinder of the camera to select what part of the subject to photograph
exposure—the amount of time that light-sensitive material is exposed to light
documentary—serving to record (or document) something
To enlarge the subject, pls look on the listed reports/read the following articles :

http://www.youtube.com/watch?v=tdK_auLnKIM&feature=related
Discussion between co-curators Diana Edkins and Larry Fink, on their exhibition "Lisette Model And Her Successors," on view at Aperture Gallery through November 2, 2007

http://www.youtube.com/watch?v=peIIoSDH5_
http://www.youtube.com/watch?v=Y3X4ggVDm74&feature=related

http://www.lexpress.fr/diaporama/diapo-photo/culture/photographie/le-new-york-de-lisette-model-au-jeu-de-paume_847511.html?p=0

http://www.jeudepaume.org/index.php?page=article&idArt=1122&lieu=7
http://cybermuse.gallery.ca/cybermuse/showcases/model/index_e.jsp
http://www.photo-seminars.com/Fame/lisettemodel.htm
I also would like to take advantage of this article dedicated to photography to give my regards to a real pictures amateur ...

A glimpse on other photography masters I like:
http://www.youtube.com/watch?v=z3SjVgnZndg
To come very soon an exhibition at the Monnaie de Paris Museum (from April 12th to July 18th, 2010)

http://www.youtube.com/watch?v=8Uk9zykqYxE

With best wishes,
Ceraulen
23 janvier 2010
Dear all,
Hope everything is going smoothly for you. Time flies so fast, really! Between pieces of joy, pleasant moments, disappointed ones, the main point is to remain confident in yourself, breath and enjoy the happy minutes to remember them when you are in a "gap" moment, waiting for a best or a worth destiny.
All is question of "feeling" or "involvement". It may be obvious when you look at something or someone in a positive way, positive feelings occur and you can share interesting moment with this person. If you look at her/him in a "so-so" way (mamahuhu like Chinese people say) then there will be a lack of something.
2009 was for me a rewarding year with its up and down, obstacles, illusions, relaxed and peaceful moments. A various melting situations, opportunities to know me better thanks to the others. It is time to go on and change, evolve in a better way.
That all I wish you for 2010, just to feel at ease with yourself and the others, to be confident and optimistic in spite of the bad influence of the financial crises and impact on people's behaviours ;-)
May every day of the year glow with good cheer and happiness for you and your family!
HAPPY NEW YEAR 2010 and TIGER YEAR!!!
2010 will be also the Tiger year, my Chinese sign ;-) It sounds good.
"The year of the Tiger is one filled with drama and there is often tension & unpredictability in the air. Events can happen quickly." http://www.earthyfamily.com/year-of-tiger.htm
Criteria of the Tiger sign : "Courageous, active, and self-assured. Optimistic, passionate and independent. Rebellious, dynamic, and unpredictable. Quick tempered but considerate. Affectionate but careless. The Tiger is a natural born leader and symbolizes power, passion and daring." http://www.springsgreetingcards.com/catalogs/store.asp?pid=250913&catid=22647
With best wishes,
Ceraulen

03 octobre 2009
Dear readers,
Another interesting topic concerned the physical appearance.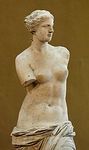 Venus of Milo - Le Louvre - Paris
Indeed, not always easy to accept our own appearance especially in our consumption society where sexy pictures or advertisements are so noticeable. Sell at any price, using the charms of VIPs, guess handsome/gorgeous part of bodies...
The "basic instinct" is pricked / stimulated in each of us.
The most difficult period is, as each of us knows, the adolescence. At this period, we believe we are ugly and need time to accept the changes in our body, trying to hide our defects using make-up, cream or large clothes...
How to live when we do not have a star appearance or a peach (canon lady or man)?



We need to really love us to transcend all these negative thoughts and complexes / inhibitions.
The support of parents, relatives, friends is so important to build your champion spirit and strengths. Humour is a key to break bad ideas and open doors.
A good example is the article "Large and Lovely site" we studied within the English circle and written on the Bellaonline's website by M.E. Wood.
I found it particularly "sound in body and mind" (sain de corps et d'esprit), humorous and relevant. Well done Miss Wood! It is a really good humanity lesson for each of us.
Link: http://www.bellaonline.com/articles/art1240.asp
A few extracts:
First, the author is factual and tries to give a substantial definition helping from a dictionary. She is wondering why this word has a so negative resonance in our mind.
"I like the word fat. It is short. Easy to write"
"Why cannot we just use the word fat? What is wrong with the word?"




"The word fat does not define who we are. There are seven definitions in Merriam-Webster (...):

1 : notable for having an unusual amount of fat: a : PLUMP b : OBESE c of a meat animal : fattened for market d of food : OILY, GREASY
2 a : well filled out : THICK, BIG (a fat book) b : full in tone and quality : RICH (a gorgeous fat bass voice -- Irish Digest) c : well stocked (a fat larder) d : PROSPEROUS, WEALTHY (grew fat on the war -- Time) e : being substantial and impressive (a fat bank account)
3 a : richly rewarding or profitable (a fat part in a movie) (a fat contract) b : practically nonexistent (a fat chance)
4 : PRODUCTIVE, FERTILE (a fat year for crops)
5 : STUPID, FOOLISH
6 : being swollen (got a fat lip from the fight)
7 of a baseball pitch : easy to hit
Then, Miss Wood complains about the general meaning and systematic bad point linked to a fat appearance:
"It's time we reclaim the word. Redefine it. You might be thinking. I don't want 'fat' to be positive. I don't want to call myself 'fat'. To do so means I'm giving up on trying to improve myself and become healthy. No darlin', it doesn't."
Finally, she asserts herself saying she is proud to be like as she is. She found a lovely and subtle acronym:
"I'm a F-abulous A-ttractive T-alented Woman!"
She adds some finely selected adjective to define her status enlarging at the same our vocabulary:
Need help with some words? Here a few:
F - Fabulous, Fun, Friendly, Fortified, Funny, Fun-loving, Fashionable, Forthright, Feminine, Feisty, Faithful, Freespirited, Fervent, Fearless.

A - Attractive, Astute, Assertive, Able, Analytical, Alluring, Aware, Adamant, Affectionate, Active, Amiable, Amorous, Attentive, Astounding, Amazing, Akamai (Hawaiian)*, Adept, Astonishing, Audacious, Assertive, Ardent.

T - Talented, Trustworthy, Tireless, Trendy, Tasteful, Tempting, Tempestuous, Terrific, Tender, Tough, Triumphant, Tactful, Tenacious, Tolerant, Tremendous, Thriving, Thoughtful.

** fortified: having something added to increase the strength
** forthright: frank, free-spoken, outspoken
** feisty: showing courage
** astute: sharp, shrewd
** adamant: inexorable, intransigent
** amorous: romantic
** astounding: staggering, stupefying
** assertive: confidently aggressive

The conclusion of this article is a hope message letting us with hindsight (avec du recul) appreciate more who we are and accept us as we are:

" We need to change the negative connotation around the word 'fat' and 'fat' people. Let's face it, there are fat people out there who have happy, fulfilling lives. We aren't all depressed slugs that sit on the couch all day whining about our body image. And for those who are, it's probably only a temporary setback. Women have reclaimed the words "Woman" and "Vagina" now it's time for us to reclaim the word "Fat". We are FAT women. Fabulous, Attractive and Talented!"

Let the words from Gloria Gaynor ring in your mind and your soul as it is a so great song giving you wings to fly and feel lighter and so relaxed, do not you think so:

http://www.youtube.com/watch?v=MnGouhet2HQ&feature=related
Version of Karen Mulder I really like: http://www.youtube.com/watch?v=NWAjDqZHc6s

FYI, from Wikipedia:
"I Am What I Am" is a song originally featured on the Tony Award-winning Broadway musical La Cage aux Folles (1983–1987). The song is found on the finale number of the play's first act, and performed by the character of Albin Mougeotte. The song was composed in 1983 by Jerry Herman, an openly gay man.

Gloria Gaynor Version

The song was later re-recorded and released as a single by gay icon and disco diva Gloria Gaynor in 1983, and proved to be one of the singer's best known hits among her fans. While pretty much unknown to the mainstream American public (it reached a peak position of #82 on the Billboard Hot R&B/Hip-Hop SongsGay Pride movement, alongside another song of hers, "I Will Survive" (1979). chart), Gaynor's version of "I Am What I Am" was a hit elsewhere, reaching no.13 in the UK charts, and would become the rallying cry of the of the Gay Pride movement, alongside another song of hers, "I Will Survive" (1979).

This song is now a standard and keeps its emotion as concerns each of each.



"I am what I am
I am my own special creation
So come take a look
Give me the hook or the ovation
Its my world
That I want to have a little pride in
My world
And its not a place I have to hide in
Lifes not worth a damn
Till you can say
I am what I am (...)"

Enjoy! Talk to you soon ;-)

With best wishes,
Ceraulen
06 septembre 2009
Dear readers,
(C) Ceraulen - 2009
Nice to write articles for you after a long silence ;-)
Thanks for your words of encouragement and comments about this blog.
The first year you were about 1,000 readers mainly from France. For the time being, most of you are from other countries and it is great. I am quite happy about it and it will be a pleasure to exchange with you and publish articles on worldwide or more localized societies / phenomenons.
We will start the new season with a "best" of the previous term topic studied within my English Circle. The article from wikipedia concerned "Facebook". I decided to enlarge it to the social networks.
Article: http://en.wikipedia.org/wiki/Facebook
So, we focused first on the society phenomenon called "social network".
What is it? what for? where? any example? bad or positive experience?
There is not the slightest doubt that Western countries suffer more than other countries in Asia for example from "loneliness", "selfish features" and a trend of not respecting the neighbours anymore ;-( That is my point of view. Let me clarify things.
To introduce, let us quote Mother Teresa's words:

"In the West there is loneliness, which I call the leprosy of the West.
In many ways it is worse than our poor in Calcutta."

As you probably know, I had the opportunity to live in China several years ago and was dumbstruck about the social behaviours to always be within a group. It was really a discovery as everyone was at the right place and within one member the organization did not work such as a watch. If you take off a part, the watch does not work anymore...
Now, based on the new rich class people, unfortunately Chinese people behave like Westerners wanted to be more concentrated on their own business and main interests. It is the Westerners' way of life.
On the opposite, and I talk mainly about French people and especially Parisian people, for a couple of years, a new phenomenon appeared : the social network.

WHAT IS A SOCIAL NETWORK? WHAT FOR?
Well, the new concept of social network consists in linking a relationship based on the common interests, activities, living places... so that creating a kind of community with members, exchanges, meetings, gatherings, organizers...
Most of the time, this social link is created from an internet connection on a community website.
I have an example: PEUPLADE which was a good idea based on the mutual aid on neighbourhood.
Even the BBC wrote an article about it ;-): http://news.bbc.co.uk/2/low/programmes/click_online
http://www.peuplade.fr/home/nHome.php
The idea comes from two people I met. They wanted to know better their neighboursn which is not always so easy especially in a big city like Paris.
At the beginning, PEUPLADE covered only the 17th district and members were enrolled from friends then friends of friends.
Afterwards, media began to find the idea interesting and a new generation of members were registered. I took part from those ones and discovered a gold mine of activities and people. It was a kind of small society grouped together all kind of people we can meet in the street and maybe we should have never talk with.
It was a kind of natural magic to meet so many various and interesting people. A part of them are now my friends and my faithful supporters within the English circle ;-) I even organized a brunch when each friend or acquaintance can bring a dish or a bottle to celebrate my job recovering in 2007.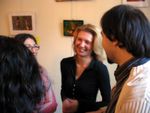 (c) Ceraulen - 2007

Of course, I also met some inveterate minesweepers. They were quite lucky as bachelor ladies in Paris are numerous and sweet.
Concerning the activities, you had a large choice from having a drink to going to cinema or exhibitions or taking part to karaokes... I became a fun of karaoke just because I met a guy really involved in who transmitted me the karaoke virus ;-)
I also organized some gatherings in restaurants, promenades, picnics... and created the English circle and a "peuplade" (French word for a group within this website) for Ch'ti people (people coming from the North of France like me) and for people who wish to have lunch with other members closed to their office. For the last idea, you can find a places list and can exchange with people working near your office so that organizing lunches. A good escape to have lunch with your colleagues every day or eat alone ;-)
Unfortunately for PEUPLADE, a competitor observed the weaknesses and cured them on his own website. The main issue was the cancellation in last-minute or unrespect of the gathering. If you registered and not come for example for a restaurant party, you can imagine that the organizer is not so happy and embarrassed towards the owner.
In the competitor's website called OVS, you cannot register if you do not come to the meeting. http://paris.onvasortir.com/
Consequently, former members of PEUPLADE walked away or register within OVS under the same nickname or change it...
Thanks to Peuplade, a lot of people become friends and still meet each other on their own place. Another new way is to communicate using "facebook".

ABOUT "FACEBOOK"
Nobody can ignore it even if you are not a member. For those who really do not know what is Facebook, here is a "refresher course". http://www.facebook.com/
http://www.youtube.com/watch?v=M5gtN16gOr8
We recover the social link at the national and even international level as you just have to enter the name of people to maybe have the chance to read their names and contact them. It is also convenient to share with your friends, relatives, colleagues, acquaintances your feelings, life events, pictures, to play with them...
The other side is confidentiality. If you do not want people to have pieces of information on your life, do not register as even future employers could check Facebook to know who you are and who are your "friends". Corporations also use the information you gave. Be careful about it and read this article: http://www.computernetworking.com.au/computer-networking-articles/2008/3/27/facebook-confidential/
You can restrain the access of your profile to friends but imagine that a friend show your profile to other people so in which way are you protected? Friends of your friend can also have access on the list of your contacts...
Other dangers such as virus and hackers can break your privacy using Facebook or other platforms - See the article : http://personalweb.about.com/od/facebooknewsandscams/a/facebookdangers.htm

CONCLUSION
Be conscious about the impact of your registration on websites and do not publish any too personal information or pictures.
Social networking is a good way to open your mind, get acquainted with others, exchanging opinions and as it happens making friends.
So wish you enjoy the ease of such websites and find what you are looking for.
As far as I am concerned, I am a user of Facebook and be cautious about it even if I really like to share my pictures with my friends and contacts. I prefer using a blog as intellectually speaking it is more interesting. The only gap is that the readers are most of the time anonymous even if I can get statistics about the countries where the readers are from and which articles they read the most. That helps me to find subjects. Pls remind that your feedbacks, points of view are really important for the author you agree or not with the author's opinion. Each comment I received is a good point.
So hope you enjoyed this topic. Pls let me know... and write another article shortly.
With best wishes,
Ceraulen
07 janvier 2009
Dear all,
One studied topic during the English circle last year concerned the influence of first name on personality and especially life.
(C) Ceraulen - 2009

An extract from an article published by the Herald Tribune published on November 10th, 2008 explained how Barack Obama's popularity sparked a new baby craze in Kenya.
http://www.iht.com/articles/2008/11/10/america/10babies.php
Indeed, more than half of the male babies born at a hospital in Kisumu province on the day of the US election were named Barack. Kisumu is the area where Obama's father came from.
We can notice the same phenomenon with "Obama" as in Swahili, this name means 'blessed one'.
Many parents called also their newborn daughters Michelle, the name of Barack Obama's wife.
The new elected President has become a real national hero in Kenya.
To tell the truth, it is not unusual for parents to name their children after actors, pop stars or sport heroes.
Maybe due to the fact the parents hope their children to have a magic or successful destiny.
Another article from the BBC Magazine points out the perception of who you are can be influenced by your first name.
The title is relevant: "Would he be even more handsome called Ryan" and we can find the picture... of George Clooney, THE gorgeous man...
http://news.bbc.co.uk/2/hi/uk_news/magazine/7312412.stm
Is it your case? What is the meaning of your first name? You can discover it on the interesting website:
http://www.babynames.com/
VOCABULARY LINKED TO NAMES
- pen/assumed name : an author's pseudonym
- first name: given name - the name that precedes the surname
- given name: Christian name
- maiden name: a lady's surname before marriage
- married name: name of the husband
EXPRESSION WITH MIND
- to change one's mind about sth: to change your opinion on (changer d'avis sur)
- to keep an open mind about sth: need to assess the situation before giving ideas (reserver son jugement sur)
- to make up one's mind about sth: to take a decision on (se decider a propos de)
BABY - Spend one minute writing down all the different words you associate with the word "baby"
Here are the answers (from the interesting website http://www.wordreference.com):
- babysitter: a person engaged to care for children when the parents are not home
- bottle: the glass including the milk for baby
- to breast: either of two soft fleshy milk-secreting glandular organs on the chest of a woman
- to suckle: suck milk from the mother's breasts; "the infant was suckling happily"
- bib: a napkin tied under the chin a child while eating
- rattle: a baby's toy that makes percussive noises when shaken
- nappy: garment consisting of a folded cloth drawn up between the legs and fastened at the waist; worn by infants to catch excrement
- formula: a liquid food for infants
- leggings: a covering designed to be worn on a person's body
- sling: bandage to support an injured forearm; consisting of a wide triangular piece of cloth hanging from around the neck
- to rock / cradle: hold gently and carefully; "He cradles the child in his arms"
- to teethe: grow teeth; cut the baby teeth; "The little one is teething now"
- to gurgle: make sounds similar to gurgling water; "The baby gurgled with satisfaction when the mother tickled it"
- to crawl: a slow creeping mode of locomotion (on hands and knees or dragging the body); "a crawl was all that the injured man could manage"; "the traffic moved at a creep"
- to deliver: to give birth
- to be expecting a baby : to be pregnant

Hope you enjoyed this scheme ;-)

With best wishes,
ceraulen

06 janvier 2009
Dear all,
How are you?
Pleased to write a short message to wish you all the best for 2009!
Prosperity in spite of the financial crisis, success and happiness! More humanity and sharing, more time to listen and take care of the others.
(C) Ceraulen - 2008

For Chinese people, the "9" figure sounds like the "longlasting" word (jiu). That is why it can be considered as a "lucky" number even if the "8" was much better.
The proof: the opening of the Olympic games in Beijing (Peking) on August 8th, 2008 at 8:08 PM as the "8" sounds similar to the word which means "fortune", "prosperity" or "wealth".
This year will be the Ox Year for Asian people.
Let us read some interesting articles on this matter:
http://www.economist.com/world/asia/displayStory.cfm?story_id=12833897
http://www.theholidayspot.com/chinese_new_year/more_zodiacs/ox.htm
http://www.bellaonline.com/articles/art60143.asp
Hope to share with you soon different views.
With best wishes,
Ceraulen
24 mars 2008
Dear all,
Hope you enjoyed the Eastern week-end. I visited my parents in North of France, closed to Lille. We will talk shortly about the "Ch'ti" culture and film which is a real success!
Well, in the meanwhile, let us introduce personality traits linked to two documents.
The first one is an extract from the "www.Usingenglish.com" website and I found an interesting text from Hui Yen Yu.
Birth order factor and your personality: 8 facts that might surprise you
Only Children
Positives: Only children are the movers and shakers- task-orientated, highly organised, conscientious and reliable. They like concrete facts and details, and are comfortable with responsibility.
Negatives: The negative characteristics of only children can be difficult to put up with. Often unforgiving, they can be demanding and unwilling to admit it when they're wrong. They generally don't accept criticism too well. Other people mqay think of them as sensitive and indeed, their feelings are easily hurt.

First-borns
Positives: Natural leaders, first-borns are often high achievers- many politicians, spokespersons and managing directors are first-borns. They frequently have a sense of entitlement and possibly superiority. Some are compliant nurturers/caregivers, while others are aggressive movers and shakers. They are both in control, but use different methods. Generally, first-borns are picky, precise people that pay heed to details, tending to be punctual, competent and organised. They want to see things done correctly first time around and dislike surprises.
Negatives: They are frequently moody, and they occasionally lack sensitivity. They can be intimidating, especially by pushing people too hard or refusing to take no for an answer. They are sometimes a bit 'know-it-all' and are often poor at delegating – mainly because they don't trust others as much as themselves. They also tend to be bossy perfectionists and overly conscientious.
Middle-Borns

Positives: The classic middle child is very relational; a people-pleaser who usually dislikes confrontation. They basically need to keep life smooth, and their motto might be 'peace at any price'. They are usually very calm, will roll with the punches as amiable, down-to-earth people and great listeners. They are skilled at seeing both sides of a problem and keen to make everybody happy, making them good mediators and negotiators.
Negatives: They tend to be less ambitious or driven than first-borns, but much more eager to be liked― or, at least, to be happy with other people. They can have a difficult time setting boundaries, so they can drift into 'co-dependence' by trying to please everyone. They are not good at making decisions which offend others and tend to blame themselves for the failures of others.

Last-Borns



Positives: Last-borns are the cheerleaders of the world. They have good social skills and love to entertain and talk to other people. They make friends readily, and quickly make others feel at home. They're extrovert, energised by the presence of other people and probably not afraid of taking risks.
Negatives: Last-borns often tend to get bored fast. They are fearful of rejection and have a short attention span. When the fun stops, they've had enough and want to check out. To some extent they're self-centred. They can harbour unrealistic expectations of finding a relationship that's always fun, and, of course, such relationships simply do not last.
How do you fit into the mix? Do you think your birth order has influenced your personality?
VOCABULARY LIST
- dependable: good/safe/honest: fiable, sûr, honnête
- responsible: trustworthy: sérieux / fiable
- achiever: réalisateur (personne efficace)
- cautious: unwilling to risk/pride,t/conservative: prudent, précautionneux
- spoilt: gâté
- objective: concret
- demanding: difficult: exigeant, éprouvant
- conscientious: conscientieux, soigneux
- self-confident: sûr de soi, plein d'aplomb
- humourous : comique
- diligent : appliqué
- uncomplicated: facile
- outgoing: sortant (qui aime aller à l'extérieur)
- event-empered : d'humeur égale
- easygoing : serein, facile à vivre
- peacemaker: pacificateur
- bossy: autoritaire, despotique
- intimidating: intimidant
- studious: studieux
- messy: désordonné
- picky: méticuleux
- unforgiving: impitoyable
- moody: humeur noire
- selfish: égoïste
- spokesperson: porte-parole
- managing director: gérant
- entitlement: droit
- compliant: obeisant, conciliant
- to nurture: faire éclore, encourager
- caregiver: travailleur social
- to pay heed to: payer attention à
- to tend to: avoir tendance à
- know-it-all: tout savoir
- overly: exagérement
- smooth: lisse, calme
- boundaries: confines d'un territoire
- to drift to: glisser
- failure: échec
- cheerleader: pom-pom girl, majorette
- to entertain: s'amuser
- fearful: craintif
- span: durée
- to check out: régler la note
- to harbour: entretenir, nourrir
Another way to describe personality is an amazing way coming from Japan...
http://www.bellaonline.com/articles/art22988.asp
Personality Traits By Blood Type - A Japanese Concept
Guest Author - Melanie Shintaku

Beginning in approximately 1930, the Japanese embraced the idea of matching personality traits with one's blood type. This phenomenon is as popular in Japan as the idea of matching horoscope with personality is in the States.
Almost all Japanese are aware of their blood type. The idea began when some in the west were touting the idea that the asian peoples were more closely related to animals then humans, or lower on the evolutionary chain, since type B blood was the predominant blood type in asians and animals. As ludicrous and unscientific as this idea was, it was insulting to say the least. Modern science disproves this obviously faulted idea. In the 1930's Furukawa Takeji (1891–1940) set out to disprove this notion and a new idea was born.

However, the idea of personality traits being influenced by blood type remains. Companies in
Japan even had divided workers by blood type.

Here are the general ideas of each blood type. The Rh factor plays no role in the blood type/personality idea:

Type O:
Type O's are outgoing, and very social. They are initiators, although they don't always finish what they start. Creative and popular, they love to be the center of attention and appear very self confident.

Type A:
While outwardly calm, they have such high standards (perfectionists) that they tend to be balls of nerves on the inside. Type A's are the most artistic of the blood groups. They can be shy, are conscientious, trustworthy, and sensitive.

Type B:
Goal oriented and strong minded, type B's will start a task and continue it until completed, and completed well. Type B's are the individualists of the blood group categories and find their own way in life.


Type AB:
Type AB's are the split personalities of the blood groups. They can be both outgoing and shy, confident and timid. While responsible, too much responsibility will cause a problem. They are trustworthy and like to help others.
Compatability by Blood Groups:
A is most compatible with A and AB
B is most compatible with B and AB
AB is most compatible with AB, B, A and O
O is most compatible with O, and AB

What do you think about this concept? Do you agree with such arguments?
Talk about another subject shortly!
With best wishes,
Ceraulen

16 mars 2008
Hello everybody!
Nice to talk with you again!
A couple of months ago, I found an interesting subject about colours and expressions linked to different kind of colours .


Somewhere over the rainbow...
See article to get more details about VOA: http://en.wikipedia.org/wiki/Voice_of_America
Voice of America (VOA), is the official external radio and television broadcasting service of the United States federal government. Its oversight entity is the Broadcasting Board of Governors (BBG).
I selected this topic because we live with colours but do not have a clear notion of their interpretation. This subject was particularly appreciated by the members of the circle.
We started studying the VOA article. Here it is (quote):
http://www.voanews.com/specialenglish/archive/2007-04/2007-04-01-voa1.cfm
Colors: I'm Feeling Very Blue Today
Many everyday American expressions are based on colors. Transcript of radio broadcast: 01 April 2007

Now, the VOA Special English program, Words and Their Stories.
Every people has its own way of saying things, its own special expressions. Many everyday American expressions are based on colors.
Red is a hot color. Americans often use it to express heat. They may say they are red hot about something unfair. When they are red hot they are very angry about something. The small hot tasting peppers found in many Mexican foods are called red hots for their color and their fiery taste. Fast loud music is popular with many people. They may say the music is red hot, especially the kind called Dixieland jazz.
Pink is a lighter kind of red. People sometimes say they are in the pink when they are in good health. The expression was first used in America at the beginning of the twentieth century. It probably comes from the fact that many babies are born with a nice pink color that shows that they are in good health.
Blue is a cool color. The traditional blues music in the United States is the opposite of red hot music. Blues is slow, sad and soulful. Duke Ellington and his orchestra recorded a famous song – Mood Indigo – about the deep blue color, indigo. In the words of the song: "You ain't been blue till you've had that Mood Indigo." Someone who is blue is very sad.
The color green is natural for trees and grass. But it is an unnatural color for humans. A person who has a sick feeling stomach may say she feels a little green. A passenger on a boat who is feeling very sick from high waves may look very green.
Sometimes a person may be upset because he does not have something as nice as a friend has, like a fast new car. That person may say he is green with envy. Some people are green with envy because a friend has more dollars or greenbacks. Dollars are called greenbacks because that is the color of the back side of the paper money.
The color black is used often in expressions. People describe a day in which everything goes wrong as a black day. The date of a major tragedy is remembered as a black day. A blacklist is illegal now. But at one time, some businesses refused to employ people who were on a blacklist for belonging to unpopular organizations.
In some cases, colors describe a situation. A brown out is an expression for a reduction in electric power. Brown outs happen when there is too much demand for electricity. The electric system is unable to offer all the power needed in an area. Black outs were common during World War Two. Officials would order all lights in a city turned off to make it difficult for enemy planes to find a target in the dark of night.
I also found some expressions including colours on the BBC website. Can you guess some of them? http://www.bbc.co.uk/worldservice/learningenglish/grammar/learnit/learnitv337.shtml
Quote:
We have many idiomatic expressions involving the whole range of colours in English. In answering your question, Michal, we will have a look today at just three colours: red, white and blue (the colours of our national flag).
white colour idioms
White in British culture is traditionally associated with purity and innocence. See if you can work out the meaning of the following white colour idioms word for word. Then check your understanding by reading examples of how they are used in context. Finally, check again against the explanations given.
go as white as a sheet
white coffee
a white-collar worker
tell a white lie
whiter than white
The news must've been bad. She went as white as a sheet when she read the telegram.
- Do you want white or black coffee? - White please. Well, dark brown, actually - just a dash of milk.
He hopes to get a white-collar job, though, with his level of education, he'll be lucky to get a blue-collar one.
It's OK to tell a white lie. It doesn't do any harm and it nearly always does some good.
She's whiter than white - the image of perfection. In her entire life she has never put a foot wrong.
ANSWERS
go as white as a sheet: become extremely pale in the face
white coffee: coffee with milk (note: not white tea; instead: tea with milk)
white-collar worker: an office worker (note blue-collar = factory or physical work)
tell a white lie: telling a lie to avoid making someone upset
whiter than white: someone who is totally fair and honest

red colour idioms Red is often associated with anger or danger (red traffic lights). In British culture, red-haired people (redheads) are traditionally hot-tempered and high-spirited. Try to work out the meaning of these red colour idioms in the same way as before.
be in the red
see red
roll out the red carpet
paint the town red
a red-letter day
She's always in the red, never in the black. No overdraft would ever be big enough for her.
When she realised saw that no housework had been done all week, she saw red and banished us from her holiday
It'll be time to roll out the red carpet when Auntie Meg returns home. We haven't seen her for twenty years.
They decided they would paint the town red after winning so much money by gambling on the horses.
It was a red-letter day for us when we were able to move into our new holiday house - the house of our dreams.
ANSWERS
be in the red: have minus amounts on one's bank account (in the black = in credit)
see red: lose one's temper; become suddenly angry
roll out the red carpet: put on a special welcome for an important person
paint the town red: enjoy yourself by going to bars and/or clubs
a red-letter day: a very happy or exciting day
blue colour idioms
Blue is traditionally the colour of boys' clothes in British culture - pink for girls. It is also associated with loyalty and true love. Try to work out the meaning of these blue colour idioms in the same way as before.

a blue movie
out of the blue
scream blue murder
the boys in blue
a blue-eyed boy
Blue movies, or adult videos as they are sometimes called, are normally only available from sex shops.
His suggestion that we should move to Cyprus came completely out of the blue. I wasn't expecting it.
They started to scream blue murder when I told them they would have to work an extra half an hour on Saturday afternoons.
It's a criminal offence. We can't sweep it under the carpet. We should hand it over to the boys in blue.
He's the blue-eyed boy of skateboarding all right. He's won this competition five times.
ANSWERS
a blue movie: a film with explicit adult scenes
out of the blue: suddenly and unexpectedly
scream blue murder: make a lot of fuss; shout loudly and emotionally in protest
the boys in blue: the uniformed police
a blue-eyed boy: a young man (grudgingly) admired because he is successful
Finally, Jennifer Kyrnin with her analysis about "Color symbolism chart by culture" gave us the final view of the circle. To enlarge, always enlarge our point of view and think in terms of international way.
Here is her item extracted from http://webdesign.about.com/od/color/a/bl_colorculture.htm
Understand the Meanings of Color in Various Cultures Around the World
If you use color on your Web site, then you should be aware of how your audience views those colors. This is especially important if you are designing a site that is intended for an audience of a different culture than your own (or a global audience). The cultural basis for color symbolism can be very powerful, and if you don't understand what you're saying with your colors, you can make big mistakes.
Red
China: Good luck, celebration, summoning
Cherokees: Success, triumph
India: Purity
South Africa: Color of mourning
Russia: Bolsheviks and Communism
Eastern: Worn by brides
Western: Excitement, danger, love, passion, stop, Christmas (with green)
Orange
Ireland: Religious (Protestants)
Western: Halloween (with black), creativity, autumn
Yellow
China: Nourishing
Egypt: Color of mourning
Japan: Courage
India: Merchants
Western: Hope, hazards, coward
Green
China: Green hats indicate a man's wife is cheating on him, exorcism
India: Islam
Ireland: Symbol of the entire country
Western: Spring, new birth, go, Saint Patrick's Day, Christmas (with red)
Blue
Cherokees: Defeat, trouble
Iran: Color of heaven and spirituality
Western: Depression, sadness, conservative, corporate, "something blue" bridal tradition
Purple
Thailand: Color of mourning (widows)
Western: Royalty
White
Japan: White carnation symbolizes death
Eastern: Funerals
Western: Brides, angels, good guys, hospitals, doctors, peace (white dove)
Black
China: Color for young boys
Western: Funerals, death, Halloween (with orange), bad guys, rebellion
Hope you have found this item as interesting as it was pleased to write down.
Talk to you shortly!
With best wishes,
Ceraulen
PS: a strange colour, an anagram (once more of my first name Laurence) is also a colour:
cerulean (uncountable) - http://en.wiktionary.org/wiki/cerulean

(color) A deep blue colour, like the sky on a fine day.
Cerulean may be applied to a range of colors from deep blue, sky-blue, bright blue or azure color through greenish blue colors.
The first recorded use of cerulean as a color name in English was in 1590.The word is probably derived from the Latin word caeruleus, "dark blue, blue or blue-green", which in turn probably derives from caelulum, diminutive of caelum, "heaven, sky. (http://en.wikipedia.org/wiki/Cerulean_blue)
And finally... Hope and Happiness: Yellow is sunshine. It is a warm color that, like red, has conflicting symbolism. On the one hand it denotes happiness and joy but on the other hand yellow is the color of cowardice and deceit.