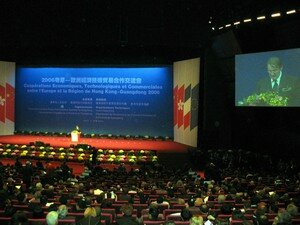 (C) Ceraulen - 2006

Business Fair for European and Guangdong - Hong Kong Economic, Technology & Trade Cooperation 2006

Yesterday a great event took place at the Palais des Congres of Paris as for the first time, the People's Government of Guangdong and the Governement of Hong Kong Special Administrative Region (HKSAR) jointly organized the "Business Fair for Europe and Guangdong - Hong Kong Economic, Technology & Trade Cooperation".

The aim of this event was to facilitate trade and economic cooperation between Europe and Guangdong - Hong Kong to larger scale, higher level and wider range by introducing the economic development and investment environment of these two regions, especially the achievements and prospects of the regional cooperative mechanisms of "Great Pearl Delta River" and "Pan Pearl Delta River".

M. Huahua Huang, Governor of Guangdong Province and Mr Donald Tsang, Chief Executive of HKSAR graced this ceremony with their presence (honorer cette ceremonie de leur presence) together with M. Jinjun Zhao, Chinese Ambassador in France, M. Loos, Industry Minister. M. Claude Pernes, President of the Association from Ile-de-France Mayors was the master of ceremony (maitre de ceremonie).


M. Donald Tsang and M. Huahua Huang
before the Conference in the VVIP Room - (C) Ceraulen - 2006

M. Didier Balme, Coverage and Territories International from BNP-Paribas and M. Steve Cornell, Asia and Far East General Manager from Total Petrochemicals gave a testimony (temoignage) of their investment respectively in Hong Kong for BNP-Paris and Guangdong for Total.

About 160 partnerships' projects on various fields like information technology, infrastructure, agriculture, chemical engineering, evironmental cooperation, logitics, out-going services and trade contracts of about 2 billion USD were launched by Guangdong Province. Among the fifth signed agreements, two were linked with German groups. Hope this will give French businessmen the will to push their efforts towards China as it is quite time!

About 300 managing directors of Chinese firms travelled also to join this event in the scope of meeting future European/French partners. 21 mayors and municipalities from Guangdong Province accompanied the Chinese delegation and played fair (jouer le jeu) taking part to the direct exchanges with French companies and speakers around stands while Hong Kong organized a conference on the business on this area.



This business fair was planed and prepared by Department of Foreign Trade and Economic Development of Guangdong Province and Hong Kong Investment Promotion Agency and undertaken by Commerce Office of Chinese Embassy in France and coordinated in France by the French-Chinese Company Heads Association (ASSOGES). Other important institutional and private actors also contributed to invite and promote this event towards their members, customers, suppliers, distributors and else.

Some details from M. Huahua Huang's speech
M. Huang underlined (a souligne) the fact that France and China both have a long history and fabulous civilization.
French are "brave, courageous and intelligent" and "created a rich and brilliant civilization left plentiful cultural inheritages in scientific and social fields largely contributing to human society improvements"...
He quoted François Rabelais: "la bouteille de sagesse se trouve en Chine" (the wisdow bottle is located in China) before reminding the first mutual Presidential encounter between China and France in 2004 to contract a "general strategic partnership" and introduced his province, advantages in terms of economic development, services and industry capacities, markets, investment environement.

A few words about Guangdong Province
It is the southmost (la plus au sud) province from the mainland (mere patrie, which is one of the earliest and most important Chinese trading ports and the startingpoint of the historic "Maritime Silk Road".
Since the reform and opening of China, the economic and social construction of Guangdong Province has obtained significant achievements by actively participating in international economic cooperation and competition.

Some figures:
- 2005: provincial GDP 260 billion USD (1/9 of the national value)
- trade volume: 428 billion USD (1/3 of the national value)
- Accumulated actual value of foreign investment since 1979 surpassed 160 billion USD amounting 1/4 of the national value

For further details:
http://gddoftec.gov.cn/en/index.html
http://www.getgd.net/gd_surv/gd_sur6.html
http://atimes.com/atimes/Others/guangdong.html
http://www.newsgd.com/
http://www.idrc.ca/media/ev-68159-201-1-DO_TOPIC.html

Some details about Hong Kong
I had the opportunity to live in Macau for six months in 1997, the year of Hong Kong handover. I discovered a very modern city and was quite impressed about the mixture of traditions and opening towards Western countries. Give you more details later...
Hong Kong is on the southmost point of Chinese mainland and adjacent to Guangdong Province. With its well-developed legal and financial system as well as a clean government, Hong Kong has become the international center of finance, trade, tourism and logistics in Asian-Pacific region. It is also a prestigious tax-free zone with excellent infrastructure, advanced information. Moreover, capitals can flow in and out freely.
As one of the important gateways of Mainland China, Hong Kong is a very important intermediary platform in the process of Chinese integration into the world.

For further information:
www.InvestHK.gov.hk
http://www.heritage.org/research/features/index/country.cfm?id=HongKong
http://www.business-in-asia.com/hongkong.htm
http://www.state.gov/e/eb/ifd/2005/42057.htm
EXCLUSIVELY FOR YOU! SOME OTHER DETAILS ABOUT THIS EVENT!
Indeed, as the Communication Responsible from the French coordinator of the event, I have helped for two months the Chinese organizers especially from Guangdong Province.
My role among others consisted in :

- sourcing French firms likely to be interested in taking part to the event or having a partnership project matching with the major or new fields of the 21 Guangdong cities or with one of the 160 projects

- contracting friendly partnerships with French group, middle or small companies to support and promote the event towards all their contacts

- writing press releases (communique de presse) before the event and getting in touch with all the medias

- proposing any assistance to correct French documents written by the Guangdong governement...

The Day D, as you can imagine, I had an intense and great planning.
On the morning, to take care about the organization of the stands and buffet, to welcome the VIP and meet the journalists (among them I met a Romanian reporter in charge of filming the event for the local TV). I was disappointed that the French media was not so numerous (maybe because of the declaration from the future candidates to the elections or the death of the oldest "Poilus" one day before November 11th!).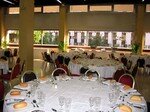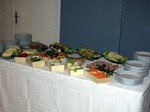 (C) Ceraulen - 2006

As a member of the French coordination team, I had the priviledge to enter on the VVIP room to take a picture of the two Governor and Chief Executive among a very restricted comity of institutional personalities. How lucky you are to get it on this blog as only three journalists and myself were authorized to take pictures!
After this short talk in Mandarin Chinese, of course!, the two VVIPs joined the VIPs on a special room to greet them.
Around 10:15 AM, they entered on the conference room to chair (presider). From 9:00 AM, a report on Hong Kong and Guangdong areas were broadcasted to the first participants.

I went a few minutes to the conference room to listen M. Pernes, M. Zhuo and M. Huang speeches while the room included 1,800 seats was quickly filled so much so that everyone cannot have audio headphones for translations. Another room with about 500 seats was also quickly assailed. For your record, the entrance was free but it was adviced to be registered in advance to get a card and enter on the speedest way.
It seems totally the visitors were more than 2,000 people.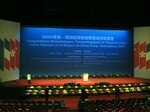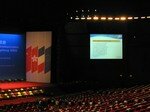 (C) Ceraulen - 2006
AT 8:00 PM

While the conference was continuing, I talked to some visitors waiting on the hall, looked at the stands and buffet, helping exhibitors in their preparation or solving last minute worries...

For the buffet, the fact is than only 1,500 seats were booked. You can imagine the rush of people before the end of the conference to reach it . As I cannot find any member of the Chinese delegation in charge of the booking, I took the initiative to inform the catering responsible. After negotiation, it was agreed some additional plates, knives and forks had to be given even if any other table were available and informed responsibles as soon as I met one of them. Apparently, they were less worried than me but you can imagine the pressure as any guardian was located at the entrance of the restaurant to limit the access on the two entrances.
In maybe three quarters, there were any main dish (plat de resistance)...

On the afternoon, the stand I was in charge with the Vice-President was largely visited so that it was difficult to manage. Victim of our success ! I had short talks with very different speakers: companies' managers, buyers, salesmen, communication responsible, presidents of French-Chinese associations, students...

The Day D finished about 5:00 PM and I realized my nicest coat and scarf in Tibet yak hair offered by a Chinese supplier in a previous job had been stolen as I lost my ticket. Bad luck!

To conclude, I can say in a few words, I lived a very interesting experience as a cultural middle-woman in a a real Chinese team with real Chinese personality and way of working. It was not so easy even if I am fond of this culture and had experiences in total immersion (in Baoding - Hebei Province in 1999 for 4 months working for the High-Tech New Development Economic Zone on the Promotion Center Department).
The fact is that I had to accept my French corrections were corrected by Chinese people working for the government and speaking French...

Wish you a good week-end!
Ceraulen