Dear readers,
It is a double joy to come back to you.
Firstly to wish you prosperity, success, happiness and above all optimism for this Chinese year of Pig.
Secondly, to advise you to discover on screen the film "La vie en rose" in English-speaking countries, "La mome" in France, directed by Olivier Dahan and with the marvellous Marion Cotillard.
I particularly appreciated this film as it reminds me some songs heard during my childhood when I was at my grandmother's house. My favourite is: The accordeonist.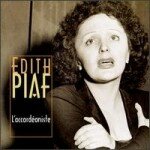 I discovered also the different stages of Edith Piaf's life and her unfortunate (malheureux) love for Marcel Cerdan, the reasons why she became a survivor and why in spite of her lack of deportment (maintien) and correct politness, she was so respected and successful as a singer. I just encourage you to go immediately to the nearest cinema and see this film!
From the slums (bas quartier, taudis) of Paris to the limelight (vedette) of New York, Edith Piaf's life was a battle to sing and survive, live and love. Raised in poverty, Edith's magical voice and her passionate romances and friendships with the greatest names of the period -Yves Montand, Jean Cocteau, Charles Aznavour, Marlene Dietrich, Marcel Cerdan and others- made her a star all around the world. But in her audacious attempt to tame (dompter) her tragic destiny, the Little Sparrow - her nickname - flew so high she could not fail to burn her wings (se bruler les ailes).
La Môme, music set to film - The life of Edith Piaf on the big screen
Paris - 16/02/2007 - By Emilie Munera
Extract from: http://www.rfimusique.com/musiqueen/articles/086/article_7856.asp
During the last few days in France the media have been awash (inonde de) with articles on Olivier Dahan's new film, La Môme. Although this is hardly the first film on the legendary French singer, few others have delivered us such convincing acting (a deeply moving Marion Cotillard) and, especially, such powerful treatment of the music.
"It's because of her voice that she had such a life" the film's director, Olivier Dahan, recently declared. It is the story of this voice that he tries to get over in the film. The voice starts off tiny – the sound of a little girl abandoned by her mother and taken in by her brothel-keeper (tenanciere de bordel) grandmother. The same voice gets more confident when it starts singing tunes in the street. But it is at its strongest when it sings of suffering, drugs and alcohol, of the loss of a child and a lover.
Music everywhere
La Môme is not a musical and it is not a film set to music – this is music set to film. "Edith Piaf, are you happy?" a journalist asks her during an interview. The singer stays silent, and then replies… "I am happy when I'm singing". All the more proof that Piaf only exists in singing, through singing and for singing. Olivier Dahan has clearly understood this, and he spends over two hours trying to convey it to us in his film.
There are very few moments without music in the movie. It is peppered not just with Piaf's songs, but also with other popular hits from the time, or simply background music. Our ears are constantly being appealed to: it might be a tune on the piano, a record playing, or a musical box. By enveloping us in these never-ending melodies, Oliver Dahan conveys the message that Piaf can only exist and justify herself through music.
All the major events and key moments of her life are narrated through songs. Milord, L'Hymne à L'amour, Mon Dieu, Padam and La Vie en Rose punctuate her rise, her suffering, Marcel Cerdan's fights and then his tragic boxer's death. But there are also some rare scenes without music, especially towards the end of her life. "If I don't sing, I die," said Piaf. Dahan evokes this with the lack of music on the final images marking the inevitable end of the golden-voiced legend. Edit Piaf disappears slowly from view… in silence.
Some interesting ressources about the film:
http://www.playfuls.com/news_0005150_Edith_Piaf_movie_a_messy_triumph.html
http://www.indiewire.com/ots/2007/02/berlin_07_daily_1.html
http://european-films.net/content/view/478/107/
About Edith Piaf:
http://worldmusic.about.com/od/bandsartistsaz/p/EdithPiaf.htm
http://www.answers.com/topic/edith-piaf
http://www.literarytraveler.com/literary_articles/edith_piaf.aspx
http://www.rfimusique.com/siteen/biographie/biographie_6057.asp
http://en.wikipedia.org/wiki/%C3%89dith_Piaf
To listen a few songs:
http://www.artistdirect.com/nad/music/artist/songs/0,,479320-5,00.html
About Olivier Dahan:
http://www.imdb.com/name/nm0196860/filmoyear
About Marion Cotillard:
http://en.wikipedia.org/wiki/Marion_Cotillard
http://www.hollywood.com/celebrity/Marion_Cotillard/1124545
About French cinema:
http://www.frenchculture.org/the_cinema.cfm
Wish you to have the same pleasure and emotions than me when you go out the cinema!
With best wishes,
Ceraulen