Dear readers,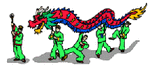 Last Sunday, the Chinese New Year Parade took place in the 13th district. Even if the rain was not invited, it came suddenly at the end of the afternoon. Anyway, happiness, smiles, multicoloured costumes and good mood flew around us.
Chinese New Year in Paris has become one of the city's most popular annual events. Paris has a large and thriving French-Chinese community whose cultural influence grows stronger all the time. Parisians of all stripes eagerly crowd the streets of South Paris each year to witness a cheerful procession of dancers and musicians, vibrantly-hued dragons and fish, and elegant flags embossed with Chinese characters. Boisterous Chinese restaurants are packed to the brim with locals and tourists, and the night set may include special theatrical or musical performances or even film festivals. A truly unique experience.
Parades are a tradition imported by the Chinese people when they emigrated in foreign countries.
All the symbols from China are gathered during this parade: red colour for happiness, yellow colour for the Emperor, vans, lanterns and of course, dragons!
Let us discover a few pictures of this parade:
(C) Ceraulen - 2007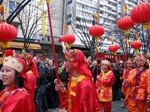 (C) Ceraulen - 2007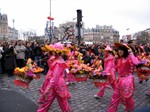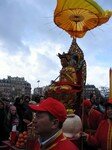 (C) Ceraulen - 2007

In China, it is rather a family gathering and the equivalent of our western Christmas and New Year.
Let us read an interesting article on this topic!
CHINESE NEW YEAR TRADITION
Extract from: http://www.123chinesenewyear.com/traditions/
Chinese Culture is rich in its culture and traditions . They have their own beliefs and New Year traditions , which they follow ardently. Although the Chinese New Year , Nian, lasts only two or three days including the Chinese New Year's Eve, the Chinese New Year season extends from the mid-twelfth month of the previous year to the middle of the first month of the new year. A month from the onset of the Chinese New Year, it is supposed to be a good time for business. People will pour
out their money to buy presents, decoration material, food and clothing.

It is the Chinese New Year tradition that every family gives its house a thorough cleaning, hoping to sweep away all the ill-fortune there may have been in the family to make way for the wishful in-coming good luck. People also give their doors and window-panes a new paint, usually in red color. They decorate the doors and windows with paper-cuts and couplets with the very popular theme of "happiness", "wealth", "logevity" and "satisfactory marriage with more children". Paintings of the same theme are put up in the house on top of the newly mounted wallpaper. In the old days, it was a Chinese New year tradition to distribute various kinds of food at the alta of ancestors.

The Eve of the Chinese New Year is very carefully observed. Supper is a feast, with all members coming together. One of the most popular Chinese New year tradition course is "jiaozi", dumplings boiled in water. "Jiaozi" in Chinese literally mean "sleep together and have sons", a long-lost good wish for a family. After dinner, it is time for the whole family to sit up for the night while having fun playing cards or board games or watching TV programs dedicated to the occasion. It is also a tradition to keep every light on the whole night. At midnight, fireworks will light up the whole sky as people's excitement reach its zenith.
Very early the next morning, children greet their parents and receive their presents in terms of cash wrapped up in red paper packages from them. Then, the family starts out to say greetings from door to door, first to their relatives and then to their neighbors. This Chinese New Year tradition is a great way to reconcile forgetting all old grudges. The air is permeated with warmth and friendliness. During and several days following the New Year's day, people are visiting each other, with a great deal of exchange of gifts. The New Year atmosphere is brought to an anti-climax fifteen days away when the Festival of Lanterns sets in. It is an occasion of lantern shows and folk dances everywhere. One typical food is the Tang Yuan, another kind of dumplings made of sweet rice rolled into balls and stuffed with either sweet or spicy fillings. This tradition is also specially followed on Chinese New Year time.
The Lantern Festival marks the end of the Chinese New Year season and afterwards life becomes daily routines once again. Traditions of the Chinese New Year vary from place to place, considering that China is a big country not only geographically, but also demographically and ethnically. Yet, the spirit underlying the diverse celebrations of the Chinese New Year is the same: a sincere wish of peace and happiness for the family members and friends.
A few words about the Pig sign ...

Years of the Boar (Pig)


Born in 1923, 1935, 1947, 1959, 1971, 1983, 1995, 2007, 2019

Extract from:
http://www.chinatownconnection.com/chinese-new-year.html

THE SIGN OF THE PIG
The Pig type is usually an honest, straightforward (loyal, franc) and patient person. He/she is a modest, shy character who prefers to work quietly behind the scenes. When others despair, he/she is often there to offer support. This type of person is reserved with those they do not know too well, but as time passes and they gain confidence, those around them may discover a lively and warm-hearted person behind that mask of aloofness. Despite those born in the year of pig having a wide circle of friends and acquaintances, they have few close friends who understand them and share their inner thoughts and feelings. It is easy to put trust in pig type; he/she won't let you down and will never even attempt to do so. Such people simply want to do everything right according to social norms.

It is important to remember that these people are not vengeful creatures. If someone tries to take advantage of him/her, the pig type tend to withdraw to reflect on the problem and protect themselves. All they need in such situations is a little time to find a constructive way to respond. The people of the pig type are conservative creatures of habit. They dislike being made to travel too far from familiar surroundings, unless it is a trip to the countryside. They love nature and are never happier than when they are out somewhere, far from the city.

There is a tolerant and peaceful side to their character. Such people are never afraid to allow others their freedom of expression; they do not want to cause arguments and if there is any way to avoid arguing, they will probably take this option. They are not weak, however, and if the situation forces them to fight these people will rise to the occasion, whether it is to defend themselves or those close to them. People of the Pig type are the most admired by others.
Some links about Chinese New Year:
http://en.wikipedia.org/wiki/Chinese_New_Year
- Fiercy launch for Chinese New Year: http://news.bbc.co.uk/2/hi/asia-pacific/6368383.stm
- Chinese zodiac calls for volatile period on planet: http://www.suntimes.com/news/world/261666,CST-NWS-pig18a.article - Chinese New Year is all about tradition:
http://www.sfgate.com/cgi-bin/article.cgi?f=/c/a/2006/01/25/FDGOSGQ21E1.DTL
- Overseas Chinese celebrate new year:
http://news.xinhuanet.com/english/2007-02/19/content_5756950.htm
祝 大家 新 年 快 乐 !

Happy Spring Festival/New Year
to each of you!


With best wishes,
Ceraulen