RATATOUILLE or a delicious adventure to share !
I discovered this afternoon the latest computer animation film (the eight) from the Pixar Animation Studios distributed by Walt Disney Pictures and it is really excellent!
I must confess that I was not a fan of cartoons or animation films even if for a while I worked as a purchasing manager assistant for kid's and baby's garments under licences such as Disney or Barbie, and Finding Nemo convinced me. So I am a fervent admirer of the Pixar's team skills and abilities.
** Extract from http://en.wikipedia.org/wiki/Pixar)
In a few words, Pixar was founded as the Graphics Group, one third of the Computer Division of Lucasfilm that was launched in 1979 with the hiring of Dr. Ed Catmull from the New York Institute of Technology (NYIT). It is an American computer animation studio based in Emeryville, California (USA) notable for its seven Academy Awards. It is best known for its CGI animated feature films—such as Toy Story, Finding Nemo, and Cars—achieved through PhotoRealistic RenderMan, its own implementation of the industry-standard Renderman image rendering API, which is used to generate high-quality images.
On January 24, 2006, The Walt Disney Company agreed to buy Pixar for $7.4 billion through an all-stock transaction. The acquisition was completed on May 5, 2006 (swapping one Pixar share for 2.3 shares of Disney), making Pixar a wholly-owned subsidiary of Disney.
** First of all, maybe we can just comment the title because it is original and so familiar for French people. It is maybe not the case for people from other countries.
Well, "la ratatouille" is a speciality from South of France (Nice) composed of tomatoes, courgettes (zucchinis), aubergines (eggplants), peppers, garlic, onions, olive oil, thyme, laurel, rosemary (romarin) and salt.
It is a very tasty vegetables dish to eat with meat.
** Ratatouille, the hero of the animation film and the French cuisine
Without being pretentious, we can say that French cuisine is well-know for its diversity and can be considered as one of the most refined (raffine). We also do not forget the Indian and Chinese cuisine which are also very tasty and with thousands of flavours and spices to let our taste buds (papilles) enjoy eating each dish ;-)
That is the reason why the film takes place in France, in Paris and relates the story of Remy, an educated and gourmet rat whose aim is to become a cooker and more precisely a "chef".
His confidence in human being, his determination will let him realize his dreams.
We can also notice some similarities between Auguste Gusteau, the founder of the high-class restaurant where Ratatouille will become a cooker and Bernard Loiseau, the famous French chef whose suicide on February 24th, 2003 was a regrettable event.
Indeed, Bernard Loiseau was ranked 3 stars at the demanding Guide Michelin, et 19/20 at Gault-Millau. Considered as one of the best chef of the French cuisine, he planned to set up a luxurious and elegant hotel resort. Due to a failure during the Gault-Millau inspection (from 19 to 17/20) and severe comments saying he lost inspiration and innovation challenge, he preferred to leave the stage after being so humiliated.
To realize this animation film, we can imagine that the photography manager, Robert Anderson and his team spent a lot of time studying each dish and components from a kitchen (cuisine) to make them so real. For example, they met the following chefs in France and USA to have a perfect view of all the components from a kitchen:
** Why Ratatouille is so lovely that he conquers the heart of children we are?
Maybe because Ratatouille is the symbol of the resourceful rat who can take opportunities and in spite of his differences, can reach the success on his level.
He has to fight against his own family to stand out (imposer) his choices and find the strength to reach his goal.
He has also a different opinion about human being than the other rats and believe in his own abilities. He does not want to do exactly the same as his companions and follows his own road to find himself.
It is nothing else than a life experience similar to the one that each of us can experience if we just want to try, to let us the chance of discoveries, especially the discovery of your "ego" and the others.
Even if the hero is just a rat, so not so cute animal with a good reputation, the story reveals a message especially for the critic who caused the suicide of Gusteau, a kind of redemption or maybe the end of a pain, the recovery of himself at another level. Let you judge by yourself !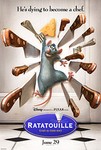 ** Ratatouille Breaks Records in France
Variety reports that Ratatouille has scurried past previous records as it set a new record in box office performance in the land of the French, France.
Taking in nearly $16 million through 1,951,074 ticket sales on 721 prints, the average of 2,706 viewers per screen is the highest-ever bow for a cartoon.
says the article. Great success for Ratatouille in France is bound to happen, with the French eager to see an animated Pixar film featuring their beloved capital city. This is similar to the way Australians reacted to Finding Nemo back in 2003, which features Sydney.
Selection of interesting articles/documents about this film:
Review: 'Ratatouille' is visually rich
http://www.usatoday.com/life/movies/2007-06-26-1733734342_x.htm
Official website from Disney
http://disney.go.com/disneypictures/ratatouille/
If you want to see some extracts of the film: http://fr.youtube.com/watch?v=6FFoK8ss3Sw
http://fr.youtube.com/watch?v=NwrJjLDIj1w (Ratatouille Pixar - 9 Minutes Preview)

So, hope I have convinced you to join Remy and Gusteau's circle saying that EACH OF US CAN COOK (!)

With best wishes,
Ceraulen