Dear readers,
(C) Ceraulen - 2009
Nice to write articles for you after a long silence ;-)
Thanks for your words of encouragement and comments about this blog.
The first year you were about 1,000 readers mainly from France. For the time being, most of you are from other countries and it is great. I am quite happy about it and it will be a pleasure to exchange with you and publish articles on worldwide or more localized societies / phenomenons.
We will start the new season with a "best" of the previous term topic studied within my English Circle. The article from wikipedia concerned "Facebook". I decided to enlarge it to the social networks.
Article: http://en.wikipedia.org/wiki/Facebook
So, we focused first on the society phenomenon called "social network".
What is it? what for? where? any example? bad or positive experience?
There is not the slightest doubt that Western countries suffer more than other countries in Asia for example from "loneliness", "selfish features" and a trend of not respecting the neighbours anymore ;-( That is my point of view. Let me clarify things.
To introduce, let us quote Mother Teresa's words:

"In the West there is loneliness, which I call the leprosy of the West.
In many ways it is worse than our poor in Calcutta."

As you probably know, I had the opportunity to live in China several years ago and was dumbstruck about the social behaviours to always be within a group. It was really a discovery as everyone was at the right place and within one member the organization did not work such as a watch. If you take off a part, the watch does not work anymore...
Now, based on the new rich class people, unfortunately Chinese people behave like Westerners wanted to be more concentrated on their own business and main interests. It is the Westerners' way of life.
On the opposite, and I talk mainly about French people and especially Parisian people, for a couple of years, a new phenomenon appeared : the social network.

WHAT IS A SOCIAL NETWORK? WHAT FOR?
Well, the new concept of social network consists in linking a relationship based on the common interests, activities, living places... so that creating a kind of community with members, exchanges, meetings, gatherings, organizers...
Most of the time, this social link is created from an internet connection on a community website.
I have an example: PEUPLADE which was a good idea based on the mutual aid on neighbourhood.
Even the BBC wrote an article about it ;-): http://news.bbc.co.uk/2/low/programmes/click_online
http://www.peuplade.fr/home/nHome.php
The idea comes from two people I met. They wanted to know better their neighboursn which is not always so easy especially in a big city like Paris.
At the beginning, PEUPLADE covered only the 17th district and members were enrolled from friends then friends of friends.
Afterwards, media began to find the idea interesting and a new generation of members were registered. I took part from those ones and discovered a gold mine of activities and people. It was a kind of small society grouped together all kind of people we can meet in the street and maybe we should have never talk with.
It was a kind of natural magic to meet so many various and interesting people. A part of them are now my friends and my faithful supporters within the English circle ;-) I even organized a brunch when each friend or acquaintance can bring a dish or a bottle to celebrate my job recovering in 2007.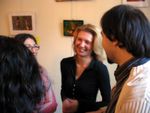 (c) Ceraulen - 2007

Of course, I also met some inveterate minesweepers. They were quite lucky as bachelor ladies in Paris are numerous and sweet.
Concerning the activities, you had a large choice from having a drink to going to cinema or exhibitions or taking part to karaokes... I became a fun of karaoke just because I met a guy really involved in who transmitted me the karaoke virus ;-)
I also organized some gatherings in restaurants, promenades, picnics... and created the English circle and a "peuplade" (French word for a group within this website) for Ch'ti people (people coming from the North of France like me) and for people who wish to have lunch with other members closed to their office. For the last idea, you can find a places list and can exchange with people working near your office so that organizing lunches. A good escape to have lunch with your colleagues every day or eat alone ;-)
Unfortunately for PEUPLADE, a competitor observed the weaknesses and cured them on his own website. The main issue was the cancellation in last-minute or unrespect of the gathering. If you registered and not come for example for a restaurant party, you can imagine that the organizer is not so happy and embarrassed towards the owner.
In the competitor's website called OVS, you cannot register if you do not come to the meeting. http://paris.onvasortir.com/
Consequently, former members of PEUPLADE walked away or register within OVS under the same nickname or change it...
Thanks to Peuplade, a lot of people become friends and still meet each other on their own place. Another new way is to communicate using "facebook".

ABOUT "FACEBOOK"
Nobody can ignore it even if you are not a member. For those who really do not know what is Facebook, here is a "refresher course". http://www.facebook.com/
http://www.youtube.com/watch?v=M5gtN16gOr8
We recover the social link at the national and even international level as you just have to enter the name of people to maybe have the chance to read their names and contact them. It is also convenient to share with your friends, relatives, colleagues, acquaintances your feelings, life events, pictures, to play with them...
The other side is confidentiality. If you do not want people to have pieces of information on your life, do not register as even future employers could check Facebook to know who you are and who are your "friends". Corporations also use the information you gave. Be careful about it and read this article: http://www.computernetworking.com.au/computer-networking-articles/2008/3/27/facebook-confidential/
You can restrain the access of your profile to friends but imagine that a friend show your profile to other people so in which way are you protected? Friends of your friend can also have access on the list of your contacts...
Other dangers such as virus and hackers can break your privacy using Facebook or other platforms - See the article : http://personalweb.about.com/od/facebooknewsandscams/a/facebookdangers.htm

CONCLUSION
Be conscious about the impact of your registration on websites and do not publish any too personal information or pictures.
Social networking is a good way to open your mind, get acquainted with others, exchanging opinions and as it happens making friends.
So wish you enjoy the ease of such websites and find what you are looking for.
As far as I am concerned, I am a user of Facebook and be cautious about it even if I really like to share my pictures with my friends and contacts. I prefer using a blog as intellectually speaking it is more interesting. The only gap is that the readers are most of the time anonymous even if I can get statistics about the countries where the readers are from and which articles they read the most. That helps me to find subjects. Pls remind that your feedbacks, points of view are really important for the author you agree or not with the author's opinion. Each comment I received is a good point.
So hope you enjoyed this topic. Pls let me know... and write another article shortly.
With best wishes,
Ceraulen