Running Legs, 5th Avenue [Jambes de passants, 5e avenue] New York, c. 1940-1941 - Lisette Model
Tirage gélatino-argentique moderne (1980). - 49,4 x 39,4 cm
National Gallery of Canada, Ottawa, achat 1985
© The Lisette Model Foundation, Inc. (1983).


Dear readers,

Today, I visited the Jeu de Paume's exhibition dedicated to a discrete but gifted photographer called Lisette Model (1901 - 1983) and encourage you to see it if you are in Paris ;-)
She took part from the unavoidable photography masters neither thanks to her personal style nor her teaching activities.
The exhibition some of her master pieces from the "Promenade des Anglais" in Nice series in 1934, "Reflection" (1939-1945) showing shops windows, pedestrians and skycrapers architecture, "Running legs" (1940-1941) and "Pedestrians" (around 1945).
Between 1942 and 1949, here was the carrier peak of Lisette Model as she realized her memorable reports in the best bars, night clubs of Lower East Side and Bowery. The Harper's Bazaar magazine also published in 1941 her most famous picture called "Coney Isaland Bather", a fat lady in swimsuit with a lovely smile.

See this link: http://www.culture-routes.lu/php/fo_index.php?lng=en&back=%252Fphp%252Ffo_index.php%253Flng%253Den%2526dest%253Dbd_ev_lst&dest=bd_ev_det&id=00003306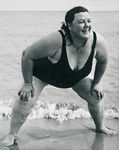 Coney Island Bather [Baigneuse, Coney Island] - New York, c. 1939-1941 - Lisette Model
Tirage gélatino-argentique d'époque. 50,5 x 40,5 cm
Fundación MAPFRE, Madrid - © The Lisette Model Foundation, Inc. (1983).
One other picture of the exhibition concerns a Cabaret artist (transformer) half-man, half-lady, very impressive. See by yourself: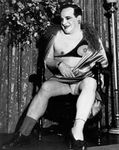 Lisette Model
Alberta-Alberta, Hubert's 42nd Street Flea Circus, New York, c. 1945
National Gallery of Canada, Ottawa, don de la Succession de Lisette Model, 1990, sous la direction de Joseph G. Blum, New York, par l'entremise des American Friends of Canada
© The Lisette Model Foundation, Inc. (1983)

According to her words: "... photography is an art form which means: human beings expressing their understanding of and connection with life, themselves, and other human beings." (...)

The camera is an instrument of detection. We photograph not only what we know, but also what we don't know (...)

New images surround us everywhere. They are invisible only because of sterile routine convention and fear.(...)

I have often been asked what I wanted to prove by my photographs. The answer is, I don't want to prove anything. They prove to me, and I am the one who gets the lesson."
Lisette Model was born into a wealthy Jewish family in Vienna, Austria, in 1901. Music was her passion and she studied voice and piano. Model moved with her family to France in 1926. There, she took up photography so that she would have a practical skill on which to rely. Photography became both her medium of artistic expression and her main source of livelihood.
In 1938, Model immigrated to New York City with her husband, who was a painter. She felt in love with the city's noisy, narrow streets, tall buildings, fast pace, and energy. Throughout the following ten years she mainly photographed subjects she found on the city streets.
Her powerful, though nonconventional, images of New York were frequently seen in Harper's Bazaar. It was through her role as a teacher, however, that Model had the greatest impact on young photographers. For the thirty years before her death in 1983, she taught her students to open their eyes and respond to their subjects with their hearts:

"let your intuition have free reign", what a good piece of advice !
To finish, let me invite you keeping in mind some expressions linked to photography:
From WORDREFERENCe website (http://www.wordreference.com/enfr/photography)

| | | | |
| --- | --- | --- | --- |
| aerial photography | | | photographie aérienne |
| black-and-white photography | | | photographie noir et blanc |
| color photography | | US | photographie couleur |
| flash photography | | | photographie au flash |
| infrared photography | | | photographie infrarouge |
| macro-photography | | | macrophotographie nf |
| time-lapse photography | | | accéléré |
From http://www.getty.edu/education/teachers/classroom_resources/curricula/esl2/esl2_photo_overview.html

Photography
A method of recording the image of an event, person, place, or thing by the action of light on a light-sensitive material. The photographer chooses the subject, vantage point, framing, moment of exposure, and lighting and makes the photograph for documentary or artistic reasons.

method—a way of doing something
recording—copying
image—picture
light-sensitive—responsive to light
vantage point—the place where the photographer positions the camera
framing—using the viewfinder of the camera to select what part of the subject to photograph
exposure—the amount of time that light-sensitive material is exposed to light
documentary—serving to record (or document) something
To enlarge the subject, pls look on the listed reports/read the following articles :

http://www.youtube.com/watch?v=tdK_auLnKIM&feature=related
Discussion between co-curators Diana Edkins and Larry Fink, on their exhibition "Lisette Model And Her Successors," on view at Aperture Gallery through November 2, 2007

http://www.youtube.com/watch?v=peIIoSDH5_
http://www.youtube.com/watch?v=Y3X4ggVDm74&feature=related

http://www.lexpress.fr/diaporama/diapo-photo/culture/photographie/le-new-york-de-lisette-model-au-jeu-de-paume_847511.html?p=0

http://www.jeudepaume.org/index.php?page=article&idArt=1122&lieu=7
http://cybermuse.gallery.ca/cybermuse/showcases/model/index_e.jsp
http://www.photo-seminars.com/Fame/lisettemodel.htm
I also would like to take advantage of this article dedicated to photography to give my regards to a real pictures amateur ...

A glimpse on other photography masters I like:
http://www.youtube.com/watch?v=z3SjVgnZndg
To come very soon an exhibition at the Monnaie de Paris Museum (from April 12th to July 18th, 2010)

http://www.youtube.com/watch?v=8Uk9zykqYxE

With best wishes,
Ceraulen