Dear readers,
A couple of years ago, I had the great opportunity to do a training in Macau and two years after in Baoding at 150 km from Beijing.
Recently, I met another contrasting and very interesting country: INDIA.
Humanly speaking, I met very different people and the most fascinating fact was the look they had at the same time surprised, interested, curious or charming.
Each exchange let me a pleasant souvenir in mind. Thanks to them for sharing a few seconds of emotion...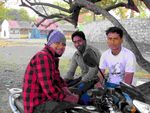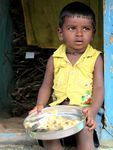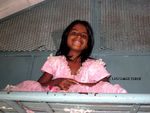 (C) Ceraulen - 2010 (C) Ceraulen - 2010 (C) Ceraulen - 2010
What I wrote in 1999 in my training report when I was in China is all the more precious today that I realized once more how our way of thinking is important when we travel. Let you judge by yourself...
" My encounter with China (and now India) was not superficial, insignificant or insipid. It is a love story started long time ago for the sake of difference and attraction of an unknown world.
Even if at the beginning nothing could fate me to get acquainted with this country, as luck would have it leading me towards a very good friend native from Cambodia and Macau where I lived an unforgettable experience at the same time professional and personal.

China / India so wonderful to our Westerners' eyes have thousands of treasures. They enjoy a genuine potential we need to gently cultivate and cleverly protect without rush and to understand to their own rythm passing over obstacles one after the other. It is a question of patience, passion and determination.

We can quote the sinologist Rene Etiemble as follows: "the West was confronted to various purposes in China: doing business, exchanging, colonizing but seldom understanding." This quotation is also valid for India and all the other developing countries.
When Westerners can stop considering the developing countries absolutely need them to open up? It is partly true even if there is not the slightest doubt that discovering what is hidden under the appeareance, pretence and courtesy is more relevant.

The best way to deeply know a country is to live there, give time to time and not to have a touristic behaviour. That means based on your know how, background, objective vision, open your eyes and your heart trying to be integrated and share moments with local people whatever social status, religion or political ideas they have.
It is the most interesting experience as the appreciation keeping in mind when you go back is more realistic than for foreigners living in 5-stars hotels, taking part to a tour with a guide and a mini-bus for 10 days and who feel at ease in this artificial and cocooning paradise.

Lisa Carducci, an Italian and French teacher firstly in Montreal and then in Beijing working in China asserted she adopted China. In her book dedicated to her integration in China, she wrote down: " to be happy in daily life in China, you have to let bygones be bygones and rebuild a new culture thanks to the components you can choose in your former and new culture".
Even if there is a gap between two cultures, the creation of a third one, mixture of the two first ones is not so obvious but possible. That means a great effort in terms of mutual understanding and tolerance is needed to fight against prejudice and difference denial. It is a humanity lesson in which you cannot be blind ;-) You need to be ready to receive a humbleness lesson.
That is also the case when you want to know someone else. The main point is to freely exchange and to be willing to give just to give and not only to receive...

Let us hear the following songs linked to this concept : http://www.youtube.com/watch?v=I1yvbb3e5-M
http://www.youtube.com/watch?v=E5K0aPGw9Rk&feature=related

A glimpse to the area where I have been living and the famous inhabitant called Amelie Poulain:
http://www.youtube.com/watch?v=aip3836VtZ0&feature=related

About Rene Etiemble: http://lisa.revues.org/index876.html
http://www.jstor.org/pss/385509
Article in French: http://french.peopledaily.com.cn/french/200203/15/fra20020315_53108.html

About Lisa Carducci: http://www.chinadaily.com.cn/china/2008-04/09/content_6601013.htm
And because it is never too late to be happy, enjoy life and discover whatever, whoever and whenever you have the opportunity ;-)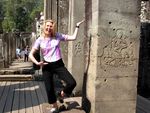 (C) Ceraulen - 2009
With best wishes,
Ceraulen