A propos de l'auteur xiaolikang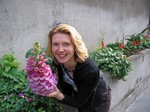 Quelques mots sur moi
My name is Laurence. My pseudo is Ceraulen.
I am 37 years old.
I have been living in Paris since 2000 and I really enjoy this city.
I am an international buyer/products manager especially in textile, fashion accessories, toys, kitchenware and electronics.
I am specialized in Business and Exchanges with Asian countries and had the opportunity to live 6 months in Macau in 1997 (training in a purchase office and as a teacher at the Alliance Francaise) and in Beijing and Baoding for 6 months in 1999.
I really like the English language and can practise also Chinese Mandarin.
I like travelling and had the opportunity to visit Indonesia, Bali, Singapore, Vietnam, Cambodia, Ireland, Czech Republik...
Mes centres d'intérêt
Drama, dance, karaoke, exhibitions and really like meeting people, speaking foreign languages and discovering other cultures. One of my hobbies is to take pictures.
Mes films préférés
Woody Allen's films Bollywood films Adventures, science-fi Documentaries, anthropology...
Mes musiques préférées
Pop-rock, hard rock, variety show...
Mes livres préférés
Psychology, essays, novels...